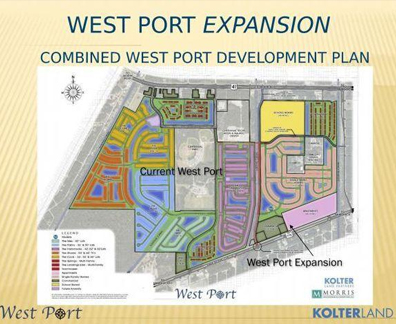 By BETSY CALVERT Staff Writer Apr 28, 2021
The president of West Port's main developer, Kolter Land Partners, said he is not worried about a housing bubble bursting, at least in the next 3-5 years.
Jim Harvey told The Daily Sun he is more worried about the price of housing getting too high for many Americans, however.
"Cost is a very big concern," he said. "We have to keep housing affordable."
The developer of land near the North Port line said West Port's closest thing to affordable housing will be townhomes with prices that may start in the high $100,000s. Several hundred new apartments planned will be class A, he said, meaning not so-called workforce housing.
Harvey spoke with The Daily Sun after he and Charlotte County's Economic Development Director Dave Gammon ran through the company's grand proposal to build about 550 to 650 single-family homes and townhomes plus apartments on 185 acres between U.S. 41 and S.R. 776.
The presentation was for the citizen advisory board for the Murdock Village Community Redevelopment Agency. They voted unanimously to recommend that commissioners to move ahead with a 30-day advertising period for the land. Kolter has proposed buying the land for $10 million, with some give backs required of the county. For the county to consider Kolter's plan, it must allow other interested buyers to bid as well.
Commissioners are not scheduled to act on this recommendation until their May 11 meeting.
Kolter's advantage over other potential developers, Gammon said, is that they are already on site, having installed most of the roads, sewer and water lines for some 2,000 homes on more than 400 acres. Also, they have leftover numbers of dwelling units and commercial space they did not use on their current site. They can conveniently transfer that to this neighboring site. And if Kolter builds a neighborhood shopping center, including a grocery store, that will contain the car traffic on site from thousands of future residents in West Port, Gammon said.
"It's a really big deal to have them already there and working," said Gammon. "This is an experienced real estate group… That's what they do, and they've done an amazing job."
Kolter would extend Flamingo Boulevard to S.R. 776 and four-lane it to U.S. 41. They also want to build a cross road that would connect all three sections of Murdock Village. This would require building bridges over the Como and Flamingo historic waterways.
"If you can get two bridges approved through the state in six months, I would be happy to watch you walk on water," joked County Commissioner Stephen R. Deutsch.
Underlying the West Port plan is about 1,100 acres of Murdock Village. An earlier board of commissioners went into debt to buy up or take by eminent domain much of that land almost 20 year ago. The 2008 recession stalled any development, leading the county to start paying off a $128 million mortgage with no income. The region was divided into three large pieces aside from many small commercial lots along U.S. 41 that are still empty. Kolter's predecessor Private Equity Group bought the largest for $11.6 million. Another non-residential developer called Lost Lagoon LLLP is trying to develop a downtown and waterpark on a smaller piece to the east. Lost Lagoon has not started construction. The land Kolter wants to buy is in between Lost Lagoon's land and Kolter's other piece.
With residential sales in spectacular demand nationwide, Kolter's home builder partners are moving as fast as current supply shortages allow. Harvey told The Daily Sun he is not worried about the fact that large scale builders are putting up homes all over Charlotte County, not to mention the rest of Florida. The last building craze ended badly for Florida with the 2008 recession after which many subdivision projects failed.
Costs have more than doubled for some supplies such as lumber. Harvey said much of this can be attributed to worldwide manufacturing stoppages during the pandemic, and may improve in time.