Lakewood Ranch
The Kolter Group of West Palm Beach recently paid $12.5 million for 250 acres of Lakewood Ranch land, where it plans to build a 55-plus gated community called Cresswind.
It would be the second age-restricted community at Lakewood Ranch. The first is Del Webb, located on State Road 70. The $24 million that PulteGroup paid Schroeder-Manatee Ranch in 2014 for 643 acres made it the largest land buy in Manatee County that year.
In April, Manatee County Commissioners unanimously approved plans for Kolter Group's Cresswind, a gated community within Schroeder-Manatee Ranch's Northeast Quadrant, the Bradenton Herald previously reported.
Cresswind is approved for 651 single-family homes clustered on the property east of Lorraine Road, midway between State Road 64 and State Road 70.
The property has been traditionally used for agricultural purposes. Its closest neighbors are relatively new, including Lakewood National Golf & Country Club, Del Webb and Indigo.
The sale of the property to the Kolter Group was the largest reported this week by the Manatee County Clerk of Circuit Court's Office.
By deed restriction, Kolter may only build a 55-and-over age-restricted residential community with common areas, recreation and social facilities and other customary amenities.
Kolter Homes has completed more than 4,000 homes, according to its website, and has investment in 18,000 future homes in Florida, Georgia, South Carolina and North Carolina. It's flagship project is the Alton community in Palm Beach County.
The company's hospitality wing owns 700 rooms and has 1,165 rooms in development, including Hyatt Place in Boca Raton.
Another arm of the company, Kolter Urban, develops urban infill and high-density residential projects, including townhouses and condominiums.
"This is a nice plan and a good company," Don Neu of NeuMorris LLC, said of home builder Kolter Homes, in representing developer Schroeder-Manatee Ranch before the Manatee County Commission in April.
Locally, Kolter also developed the Artistry community and the Ritz Carlton Residences in Sarasota County.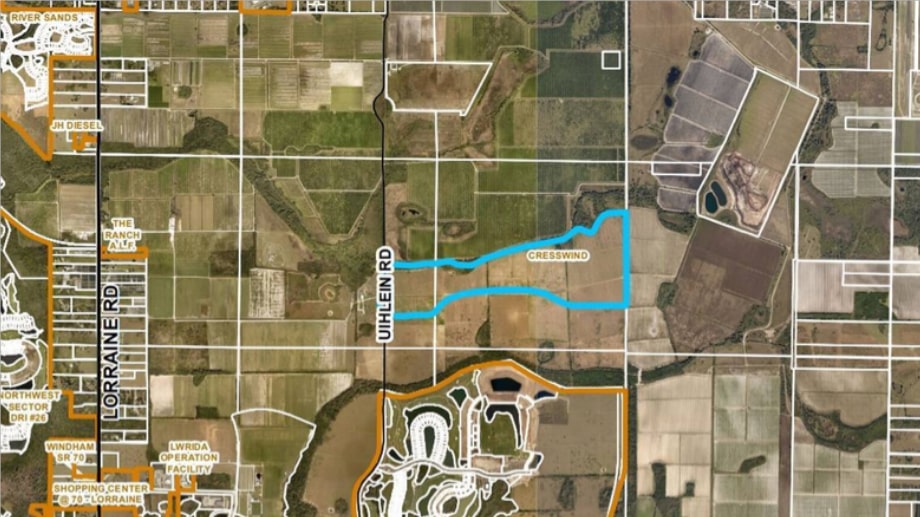 Kolter uses its Cresswind moniker for its developments in Charlotte, N.C., Charleston and Myrtle Beach, S.C., Lake Lanier and Peachtree City in Georgia, and Victoria Gardens, near DeLand.
The Kolter Group did not immediately respond to a request for timeline, design and amenity information for its Lakewood Ranch property.
Source: The Bradenton Herald